Blog

>

Outstaffing: An Optimal Approach for IT Companies in the New Reality
Outstaffing: An Optimal Approach for IT Companies in the New Reality
Published: August 7, 2023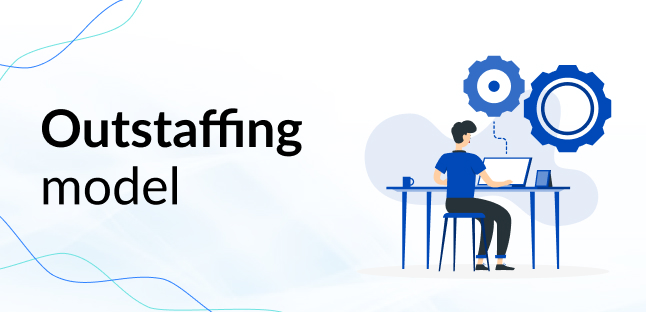 Outstaffing is a common approach used by tech companies to bolster their teams with qualified technical specialists who have the necessary skills and experience. This enables companies to quickly close gaps in projects, avoiding unnecessary costs for finding, hiring, and training new employees.
The outstaffing model involves the use of remote workplaces, where the client company hires specialists from an external outstaff team to work on projects or provide services. In this approach, the client retains full control over task distribution and process management.
The COVID-19 pandemic has significantly affected business processes, forcing companies to look for alternative solutions. Many companies have transferred their employees to remote work, allowing them to reduce office costs and ensure a safe working environment. In such circumstances, outstaffing has become the optimal solution that allows companies to effectively manage IT projects and optimize personnel costs.
Outstaffing is an effective and convenient tool that helps companies tackle the challenges of modern business. In the new realities, where flexibility and cost optimization become key success factors, outstaffing becomes an important partner for your business.
Choose OSKI Solutions as your trusted outstaffing partner. We specialize in providing outstaffing services to small and medium-sized companies, offering highly skilled Full Stack developers proficient in ASP.NET, C# .NET, React, Vue.js, Umbraco, and Node.js. Our focus on effective communication and delivering top-notch project execution guarantees the successful growth of your business.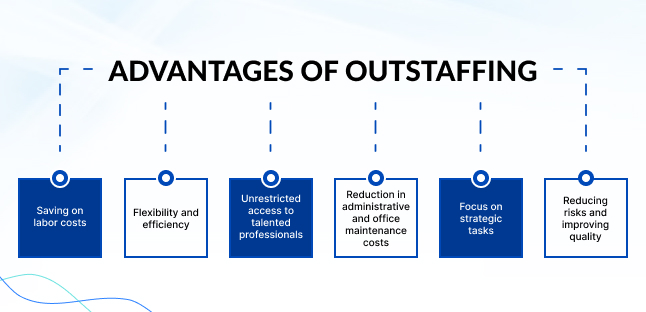 How to save money on outstaffing?
For a long time, outstaffing did not have many supporters, but we at OSKI Solutions can note that with the onset of COVID-19, the number of partner clients in the central and western parts of the European Union, the UK, and the US has increased significantly. Companies seek to reduce risks and be more flexible, efficient, and competitive. Using the outstaffing model allows them to use their resources efficiently and reduce costs, while ensuring high-quality task execution and fast project development.
Saving on labor costs
One of the main cost items for companies is staff remuneration. Using outstaffing allows companies to hire highly qualified specialists from countries with lower wages (such as Ukraine, Estonia, Hungary, Poland, etc.), significantly reducing labor costs without compromising the quality of services.
It is worth noting that specialists from such countries can cost you about 40%-50% less than specialists from the United States or Germany. This significant cost difference is one of the main reasons why companies choose outstaffing solutions. By attracting qualified professionals from countries with lower labor costs, businesses can achieve cost savings while maintaining a high level of expertise and quality in their projects.
Flexibility and efficiency
Outstaffing allows companies to form teams flexibly and quickly engage professionals in projects according to their needs. This allows them to respond effectively to market changes and customer demands. Using outstaffing, companies can quickly expand their teams or identify specific experts for specific projects, ensuring a fast and efficient approach to project execution. This adaptability is a key advantage of outstaffing, helping businesses remain flexible and competitive in a dynamic environment.
Unrestricted access to talented professionals
Outstaffing gives companies free access to talented professionals without being limited by geographic location. By expanding the talent pool in this way, companies can gain access to top-notch experts with exceptional skills and qualifications without any restrictions on their location.  This freedom to choose from a diverse talent pool ensures that companies can assemble top-notch teams that meet project-specific requirements and deliver exceptional results.
Reduction in administrative and office maintenance costs
Implementation of outstaffing allows companies to avoid unnecessary costs associated with office space rental, utility bills, and equipment for employees. Remote work reduces administrative costs and contributes to the efficient use of resources. At OSKI Solutions, we take care of these costs, providing maximum comfort for our clients, while they can focus on their core business operations. By using outstaffing services, companies can optimize their budget and allocate resources more strategically.
Focus on strategic tasks
Outstaffing allows companies to focus on their core goals and strategic objectives. Routine tasks and projects can be delegated to outstaffing teams, freeing up time and resources for strategic business development. By delegating non-core activities to specialized professionals through outstaffing, companies can focus on their long-term goals and critical areas, fostering growth and innovation within the organization. This strategic approach increases the overall efficiency and competitiveness of the business.
Reducing risks and improving quality
Outstaffing allows companies to engage experienced and knowledgeable professionals, which positively affects the quality of project execution and reduces the risk of errors. By working with qualified experts, companies can ensure that their projects are executed accurately and efficiently, minimizing the likelihood of errors or delays that can be costly. This focus on quality assurance through outstaffing contributes to a company's overall success and reputation, resulting in increased customer satisfaction and potential for future growth.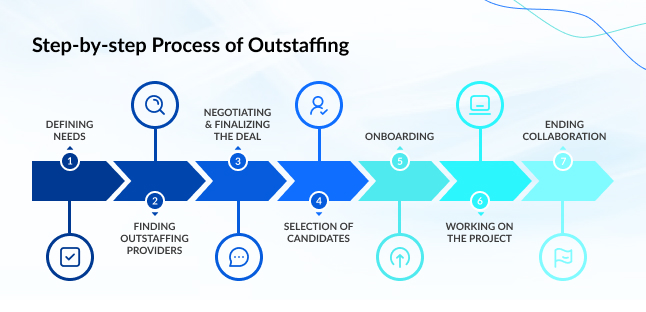 How quickly can a new outstaffing specialist join a project?
Hiring external outstaffing specialists is an important step that affects future performance. However, this process can be both fast and efficient if done correctly.
Based on our experience, we propose to consider the main stages of hiring outstaffing specialists in an IT company.
Step 1: Defining Needs
The first step is to identify the requirements and needs of the company or project. It is necessary to determine what exactly needs to be done, what role the specialist should play, and the skills required to successfully complete the tasks and work on the project.
Step 2: Finding Outstaffing Providers
The company should seek trustworthy outstaffing service providers. Thorough market analysis, checking ratings, and reviewing feedback from previous clients are crucial steps in selecting the right partner.
Step 3: Negotiating and finalizing the deal
After carefully selecting the most suitable supplier, the next stage involves diving into the complex details of the contractual agreement. This stage requires careful consideration of various aspects such as timeframes, financial obligations, reporting protocols, and other important details. In this process, it is extremely important to reach a clear and complete understanding between all parties involved.
Step 4: Selection of candidates
The outstaffing provider offers the company access to a database of professional candidates. The company then selects those whose experience and skills best match the project requirements.
Step 5: Onboarding
Once the right employees are selected, the onboarding process begins. It includes familiarization with the company, its values, procedures and work environment. During this period, the OSKI Solutions team provides maximum assistance to ensure a smooth and effective onboarding process.
Step 6: Working on the Project
After a successful onboarding process, the specialists start working on the company's project. Communication with the outstaff team and process monitoring are crucial to ensuring the project's success.
Step 7: Ending Collaboration
At the completion of the project or whenever necessary, the company can easily conclude its collaboration with the outstaff specialists. There is no need for layoffs, providing flexibility and efficient resource utilization.
Conclusion
Outstaffing is a popular outsourcing practice used by many technology and non-technology companies looking for quick access to a global pool of IT talent while maintaining control over their IT department processes.
Outstaffing helps companies overcome the shortage of IT talent, reduce IT costs, shorten time to market, improve the skills of their own team, and much more. As a result, outstaffing is rapidly gaining popularity and is becoming one of the leading models among various outsourcing practices.
Don't forget to share this post!
Latest Articles
OSKI solutions is a digital agency from Ukraine, one of the largest and most beautiful countries in Europe.
We're very proud to be an officially registered Umbraco partner.