Blog

>

A Game-Changer for Content Delivery and Omnichannel Strategies at Umbraco 12
A Game-Changer for Content Delivery and Omnichannel Strategies at Umbraco 12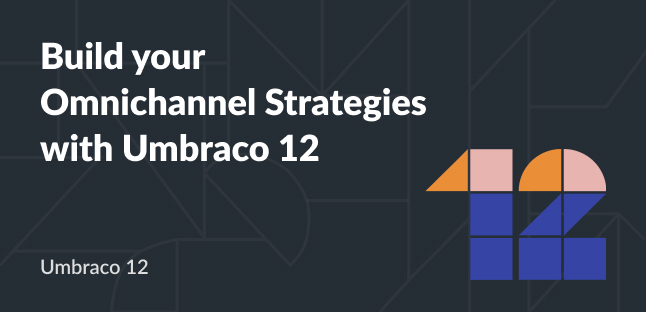 Umbraco, the popular open-source content management system (CMS), has recently unveiled its highly anticipated release, Umbraco 12. Packed with groundbreaking features and enhancements, Umbraco promises to revolutionize content delivery and support omnichannel strategies. In this article, we'll delve into the key highlights of Umbraco 12 as discussed in various sources.
Improved Content Delivery API
Umbraco 12 introduces a revamped Content Delivery API that empowers developers to provide exceptional user experiences. It embraces a headless architecture, empowering uninterrupted content delivery across diverse channels including web, mobile, and IoT devices. By embracing this approach, Umbraco 12 ensures a seamless experience for users, allowing content to be effortlessly distributed and accessed across various platforms and devices. This pivotal headless functionality separates the processes of managing and presenting content, allowing developers to tailor the presentation layer to different platforms and devices while efficiently managing and delivering content from the CMS.
Headless architecture is a software development approach that entails the decoupling of the front-end and back-end components within an application. With Umbraco 12, this translates to the content management system (CMS) taking charge of content management, while the front-end is constructed autonomously using APIs as connectors. This approach offers flexibility and freedom for developers to choose technologies and frameworks for the front-end. It enables seamless content delivery across various channels and ensures consistent user experiences across platforms.
Enhanced Performance and Scalability
Umbraco 12 brings significant performance and scalability improvements. It leverages modern technologies and optimized algorithms to ensure faster content rendering and increased throughput. With CMS, organizations can handle higher traffic loads and deliver content to a growing user base without compromising on performance.
Streamlined Editor Experience
With a focus on empowering editors, Umbraco 12 is designed to enhance the content creation and editing experience, ensuring a user-friendly and efficient workflow. The new release introduces a more intuitive and user-friendly editor interface, empowering content creators to craft engaging and impactful content seamlessly. The improved editor experience simplifies content management tasks, reduces cognitive load, and accelerates the content production process.
Advanced Personalization Capabilities
Personalization is a key component of modern digital experiences, and CMS recognizes this importance. The latest release incorporates advanced personalization capabilities, enabling organizations to deliver tailored content to individual users based on their preferences, behavior, and demographics. This level of personalization enhances user engagement, boosts conversions, and strengthens customer loyalty.
Robust Multilingual Support
Umbraco 12 takes multilingual content management to new heights. With its comprehensive multilingual support, organizations can effortlessly create and manage content in multiple languages. The platform offers powerful translation management features, streamlined localization workflows, and seamless integration with external translation services. This enables businesses to efficiently cater to a global audience and deliver localized content at scale.
Improved Security and Compliance
Security is a top priority in Umbraco 12. The release focuses on enhancing security measures to protect against evolving cyber threats. It introduces advanced authentication mechanisms, encryption algorithms, and security best practices to safeguard sensitive data and maintain compliance with industry regulations such as GDPR and CCPA. Organizations can rely on Umbraco 12 to provide a secure environment for their valuable content and user information.
Conclusion
Umbraco 12 is undoubtedly a game-changer in the realm of content management and delivery. With its revamped Content Delivery API, improved performance, streamlined editor experience, advanced personalization capabilities, robust multilingual support, and enhanced security measures, Umbraco 12 equips organizations with the tools they need to deliver exceptional digital experiences and support omnichannel strategies. As the Umbraco community embraces this new release, we can expect to see innovative and captivating websites and applications powered by Umbraco 12 in the near future.
Improve your omnichannel strategy with Umbraco 12! Upgrade with OSKI Solutions for lightning-fast performance, seamless content delivery, and advanced personalization. 💪
Don't forget to share this post!
Latest Articles
We're very proud to be an officially registered Umbraco partner.
Removing media items that aren't used becomes a difficult task when your site is large and long-running. To make it easy we have created a Umbraco plugin to remove media items that aren't in use in content.